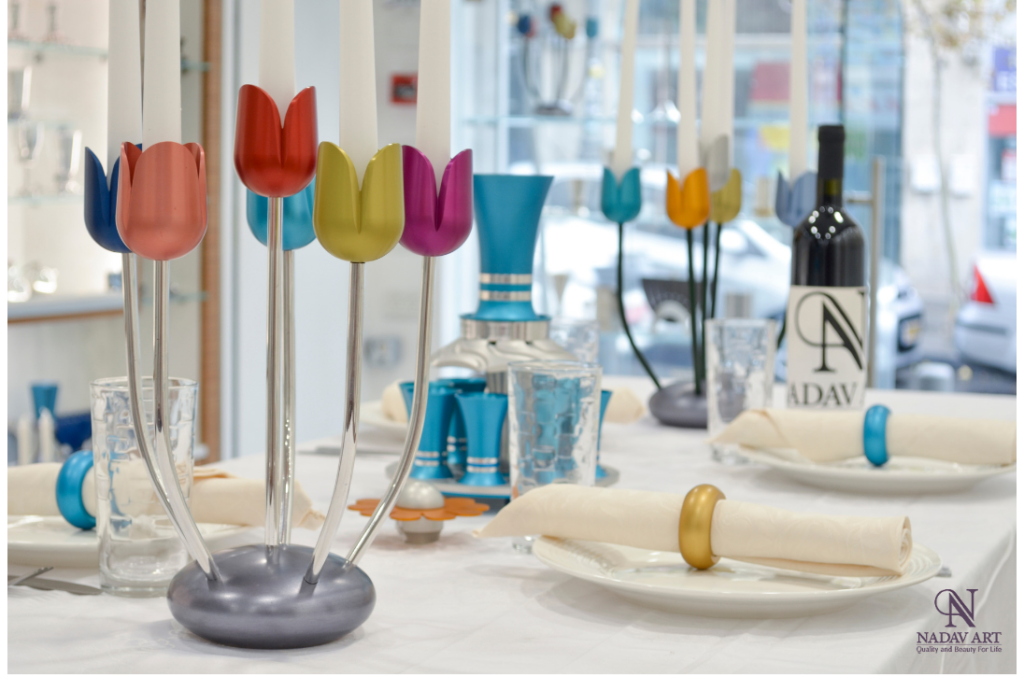 Avi Nadav is a third generation artist and silversmith based in Jerusalem. His work consists of handcrafted art, from traditional silverware to a more modern line of Judaica, tableware, and jewelry made from anodized aluminum.
Tell us a little bit about yourself and your background.
I am Avi Nadav, I am a third generation artist from Jerusalem. I studied mechanical engineering in high school and learned from my father and artists from all over the world how to effortlessly combine different styles to create unique works of art and Judaica.
What inspired you to become an artist?
My father inspired me to start my career as an artist and my customers continue to constantly inspire me, always challenging me to come up with new and interesting designs which push my creative boundaries and make me into a better artist.
What is your specialty?
We specialize in using handcrafting methods to create pieces which are far more unique than machine-made Judaica. We also specialize in cold enamel techniques, adding unique touches to our pieces.
How and where do you work?
Our studio and factory are both located in the heart of Jerusalem. Our studio can be found at 18 Shlomzion HaMalka, Jerusalem, feel free to come visit us and get a free workshop tour! This is where I work with my talented team of silversmiths, artists, and creators, collaborating and always trying to reinvent the norm.
What is the most indispensable item in your workshop?
I have a bible covered in silver that my father handcrafted years ago which I keep as a reminder of where I come from. This is my most prized item in the studio.
Where do you take your inspiration? Are you pursuing any themes?
I find inspiration in modern architecture and Jerusalem itself. I also travel frequently and gain insight and inspiration from new and existing customers, and my aim is to always seek new ways to express that essence through design.
What projects are you currently working on?
We are currently working on a very modern line of stunning, multi-purpose homeware effortlessly blending a multitude of materials to create these pieces. Stay tuned!
What is your favourite item in your current collection?
A very modern candelabra, it's still in the works, so I am looking forward to reaching the final product.
How do you know when a piece is finished?
It is finished when I'm happy with how it looks, feels, as well as ensuring the finish, the design, the proportions are how we wanted them to be.
Do you do bespoke work?
Yes! We love getting requests from customers and are able to make anything our customers request. Recently we've created bespoke candlesticks and a sterling silver Kiddush cup with personalized engraving.
What was the first artwork you ever sold?
Silver Candlesticks, when I first started my store around 20 years ago.
Which project have you enjoyed working on the most so far?
Designing a bespoke Mezuzah for the Waldorf Astoria Hotel in Jerusalem (our neighbors!)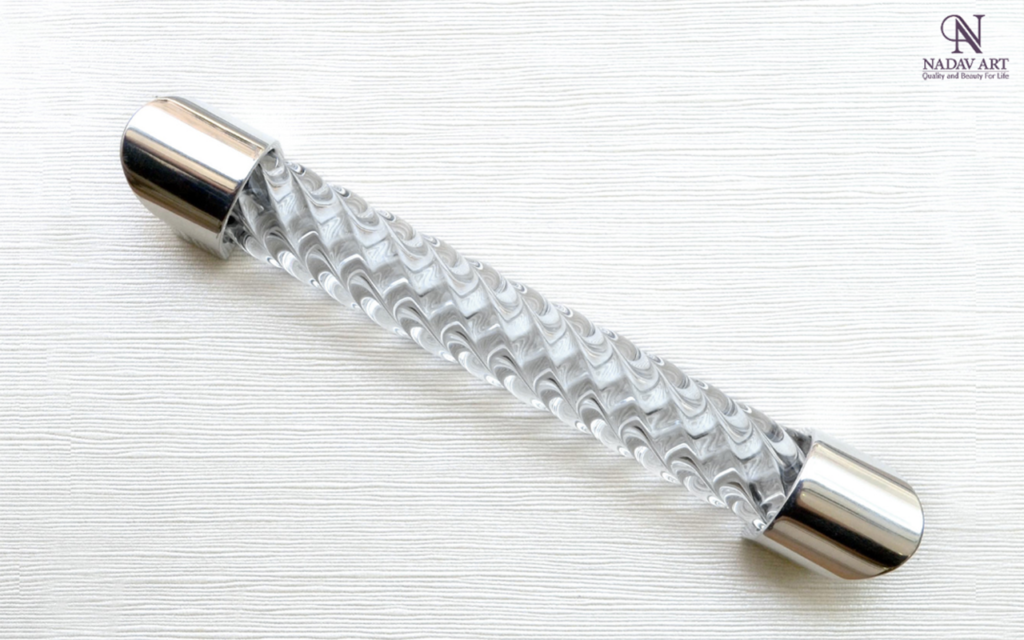 What do you want to achieve with your work and what are your wishes for the future?
We are always looking to expand and create. We are currently looking into expanding our line to include stunning silver and gold jewelry, with diamonds and precious stones, as well as expanding our custom homeware.
Where can we find your work?
We can be found online at www.nadavart.com, on Etsy at www.etsy.com/shop/NadavArt. Follow us online on Instagram at @nadav_art, and on Facebook at www.facebook.com/nadavart to see how we expand and grow every day.