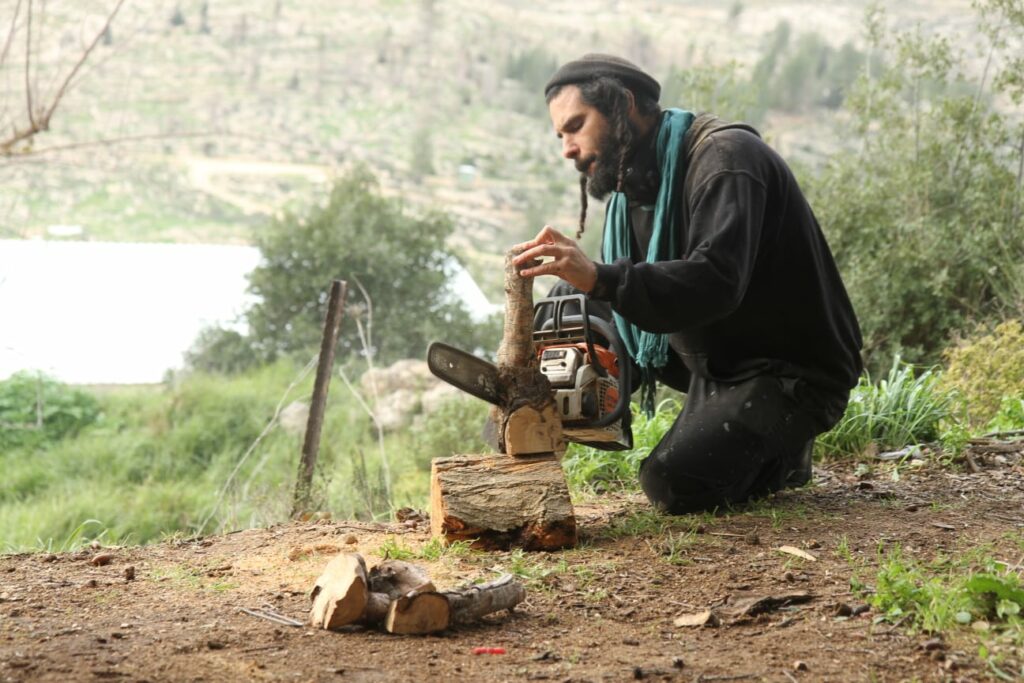 Tell us a little bit about yourself and your background.
My name is Asaf Man, I was born in Jerusalem in 1975, and am happily married and in love with my wife, Levia. I am the proud father of eight children. In addition to our studio, we are also in charge of the village we live in, in Israel: Merchavei David, next to Bat Ayn in Gush Etzion. I am very occupied, Baruch Hashem …
I have studied Arts and Theatre at "The Visual Art and Theatre School of Jerusalem – SVT." After my studies, I participated in many art projects, like the one of Muslala, where my drawings, such as "The lost Princess" and "The Roots of the Truths", have been or are currently showcased in the streets of Jerusalem.
I have also had the pleasure of restoring the Suissa synagogue, and other works exhibited at the Israel Museum in Jerusalem.
My life changed drastically four years ago due to two sudden events:
Having already had six children, Levia became pregnant again with twins, and at the same time, our son Refael has had to undergo a heart transplant. My wife and my son needed me at home; this is how my studio was born.
I have always loved wood but I never had the chance carving it. One day, I found an olive branch in our garden. My mother-in-law gifted me a sculpting Dremel and I have carved my first Mezuzah. Very soon thereafter, a woman asked me if she could purchase it. Levia has decided to open an online shop on ETSY and to start selling my artwork.
What inspired you to become an artist?
To be honest, I did not want to end up like my math teacher.
Until the age of 14, I was in a sport school, and a professional football player for Beitar Jerusalem. I loved football a lot, but I also felt the urge to create deep inside of me and the need to connect with the delicate and creative side of the Jewish soul: art.
Since a very young age, I feel the need to find myself within myself, and to express myself by creating. I began drawing and my sister and my friends purchased many of my works, even before being photographed. I believe that every Jew has a hidden artist within them; they merely have to discover it and let this aspect speak in their own way.
What is your specialty?
Sculpting and drawing.
How and where do you work?
I work in my studio, which is in the garden of my house, while admiring and enjoying the beautiful silence and landscape of the Gush Etzion Mountains.
How I work? In general with my little girls running around everywhere between the house and the studio, with tools in their hands of course, that I spend hours looking for, … .
The most pleasant hours are the ones I spend sitting next to my wife, drinking coffee.
What is the most indispensable item in your studio?
My Dremel, with which I carve, and especially: my hand.
Where do you take your inspiration? Are you pursuing any themes?
The love of my wife, Levia, is my inspiration.
Apart from the reproductions of old mezuzot customers ask me for, when I create an art piece I detach myself from everything I know to enter a new world of creation, so no, I do not dwell on a piece. My wife is an integral part of my creation, I go into house a lot or call her to the studio to take her advice and if she is not satisfied, I am not satisfied either.
What projects are you currently working on?
Since my artwork is inimitable, I am also the only one who can carve them. A few months ago, I began to suffer from tendonitis and was forced to lengthen the preparation time for each order. At first, I was very sad until I remembered that Hashem is doing everything for good. I then thought about alternatives to wood and decided to go back to ceramic sculpture, which I love and which I am very good ad. My next project is a ceramic mezuzah. Follow me on Facebook!
What is your favourite item in your current collection?
I think it is "the pomegranate inside the pomegranate", like a foetus in the mother's stomach, made of olive wood from Jerusalem. A mother gave it to her daughter, who had already been waiting for two years to get pregnant, and she gave birth a few months later, Baruch Hashem.
But, as a general rule, it is like with children, we can not answer who we like most.
How do you know when a piece is finished?
When we understand that nothing belongs to us in this world, we can easily separate ourselves from the material. Deciding that a piece is finished is a decision to take otherwise it never ends.
Do you do bespoke work?
Yes, a lot, I made an Etrog box, a Havdalah set, a Megillah box, …
Although sometimes I am asked to, under no circumstances do I create immitations of other artists work.
I always explain my customers, who want me to reproduce one of my pieces, that my artwork is unique, inimitable, and therefore, the piece reproduced will not be identital, as I discover the wood and the shape at the same time that I sculpt.
Generally speaking, the customers give me the measurements of the desired object and I sculpt according to my inspiration and the precious advice of my wife.
What was the first artwork you ever sold?
In my career as an artist: an oil painting. I did not have my wife at the time to photograph it …
In Judaica since I started with wood: a mezuzah. My wife and my mother-in-law pushed me to take my work out to the public. One day I found a branch of olive wood in my garden and I began to carve it with the Dremel that my mother-in-law bought me to make a mezuzah.
Which project have you enjoyed working on the most so far?
I took part in the street painting project for Muslala, an organisation that deals with installing artworks in the streets of Jerusalem. I drew in the middle of the street a drawing of 2 x 7 meters for two weeks, which tells the magnificent story of one of the tales of Rabbi Nachman: "The Lost Princess".
What do you want to achieve with your work and what are your wishes for the future?
The Holy Temple, Beit HaMikdash.
Where can we find your work?
Etsy shop: www.asafman.com
Facebook: https://www.facebook.com/asafmanart
Pinterest : https://www.pinterest.com/asafartman
© Levia & Asaf Man