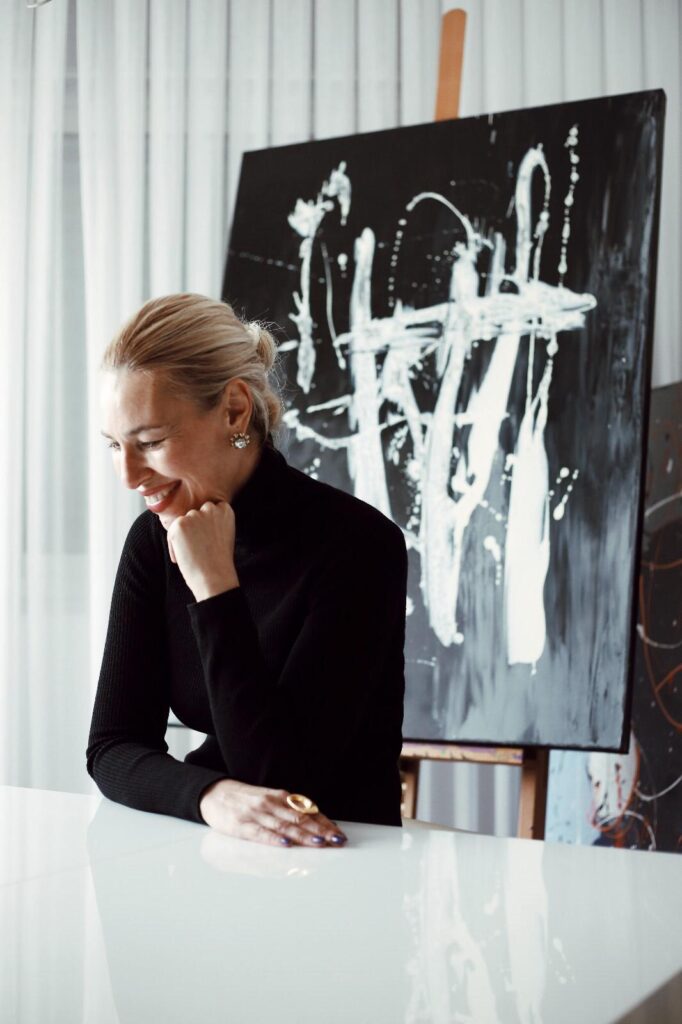 Photo: Courtesy of Anna Aiach
Tell us a little bit about yourself and your background.
Imagine an orderly little girl with a red dress and red bows somewhere in Kishinev, Moldova. There I was born and raised until I came to Israel at the age of 17. I was a polite, hardworking and serious girl reading books day and night, playing piano – how not – and doing everything in order to please my parents and Russian education. This girl still exists in me: sometimes she calms me down and, more often than not, influences the choice of my life goals. There is also another side to this girl … what would Freud say about it … another character trait trying to break out: Creativity with burning love for colors, aesthetics and life itself. This is Anna – Anna the painter!
I get up daily for my work at the university. With two academic degrees, I am very passionate about my job. It gives me contentment and satisfaction. But sometimes the routine causes my creativity to explode inside me bringing out the tsunami of unstoppable restlessness. Or more accurately saying, I can't stop painting.
My paintings are open windows to my soul, a well-worn but accurate metaphor that worked for the good and for many before me.
They are spots where I can dance as if nobody can see me there.
I am so glad you are here and I'm grateful to you for giving me the opportunity to share with you another side of me.
I called myself "orderly" before, so I would like to add that I'm 49, married to Jacob my beloved husband of 27 years; loving Mom of two extraordinary children, Nathanael and Shaked, who taught me how to break through my inner barriers better than any instruction's book.
I love my family more than life itself!
I love literature, music, traveling around the world, pretty things, good food. And my family again and again!
My favorite pastime is hosting friends and family serving delicious dishes as nicely as possible, tailoring it all to everybody's taste.
What inspired you to become an artist?
I think I have associative thinking. Strong morning coffee, feather clouds, the smell of the sea, joy or pain of those around me, political controversies, COVID-19 damages like social distance or masks — anything, but anything, can inspire me.
What is your specialty?
People asked me why I didn't choose to be a realistic painter?
I think this question as interesting in connection with all the information I bring up here with full honesty.
In everyday life I'm a realist. I follow the rules, obey the conventions. In my art I cannot be bound! It's a different continent.
It's a different universe. This is the place where my soul breaks all the boundaries. I hold on to the paintbrush and take off!
Colorfulness, free movement and harmony fill me up!
How and where do you work?
I work in the dining area of our house with piles of paintbrushes and tubes of paint near me. I keep painting for hours and hours, but who is counting?
What is the most indispensable item in your working space?
White canvas, primary colors, my favorite palette knife and of course music! Then I release the canvases as if there is no tomorrow.
Where do you take your inspiration? Are you pursuing any themes?
There are no rules and boundaries in art. I also do not believe in muse. I can always draw. It spills out of me
Do you do bespoke work?
Yes, I do.
What projects are you currently working on?
Towards the approaching spring under the COVID-19 influence I am working on the new series of paintings 'The White Series'. The series consists of eight paintings, each one stands on its own as a stage in the creative process, from the first painting 'Concerns' through painting 'Questions' – where do we go, whether we will return closer or stay the social distance for a long time, and then careful optimism and reconstruction.
The colors in each painting are different but in all of them the white background is a recurring and dominant motif. Prominent white parts as part of a work of art are a well-known and familiar concept that is often used in Japanese art, also called Ma-negative space, where the white part that is not painted at all has the same importance as the painted parts. The presence of the void is translated and interpreted as full of possibilities, like a new promise to be kept, 'a new page in the book' so to say.
What are your favourite pieces in your current collection?
A pair of paintings named Free Construction 1 and Free Construction 2.
Photos: Courtesy of Anna Aiach
How do you know when a piece is finished?
It's a matter of feeling and deciding. It is very difficult to describe. The decision is not set in stone – I often return to the painting, add and change it
What was the first artwork you ever sold?
A figurative painting called "Purity" I painted in 2011 and sold to a neurosurgeon from the Ichilov Hospital, Tel Aviv.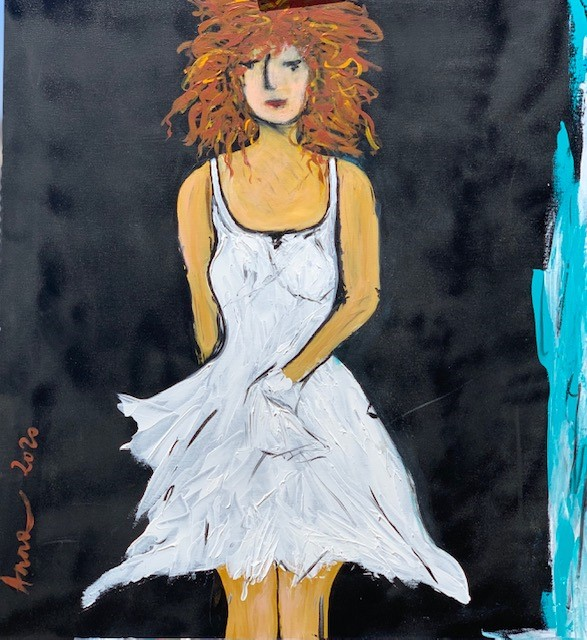 Photo: Courtesy of Anna Aiach
Which project have you enjoyed working on the most so far?
I really enjoy dealing with the issue of gender. I have paintings that explore the subject. For Example, Femininity and Masculinity
Photos: Courtesy of Anna Aiach
What do you want to achieve with your work and what are your wishes for the future?
The thought that my paintings hang on the walls of different houses and make the members of the house happy … there is no greater joy and happiness than this.
Where can we find your work?
My works can be found on my online gallery site:
In addition, some of my paintings are displayed in selected galleries in Israel and on websites of emerging artist platforms around the world, such as Hansford and Sons, London