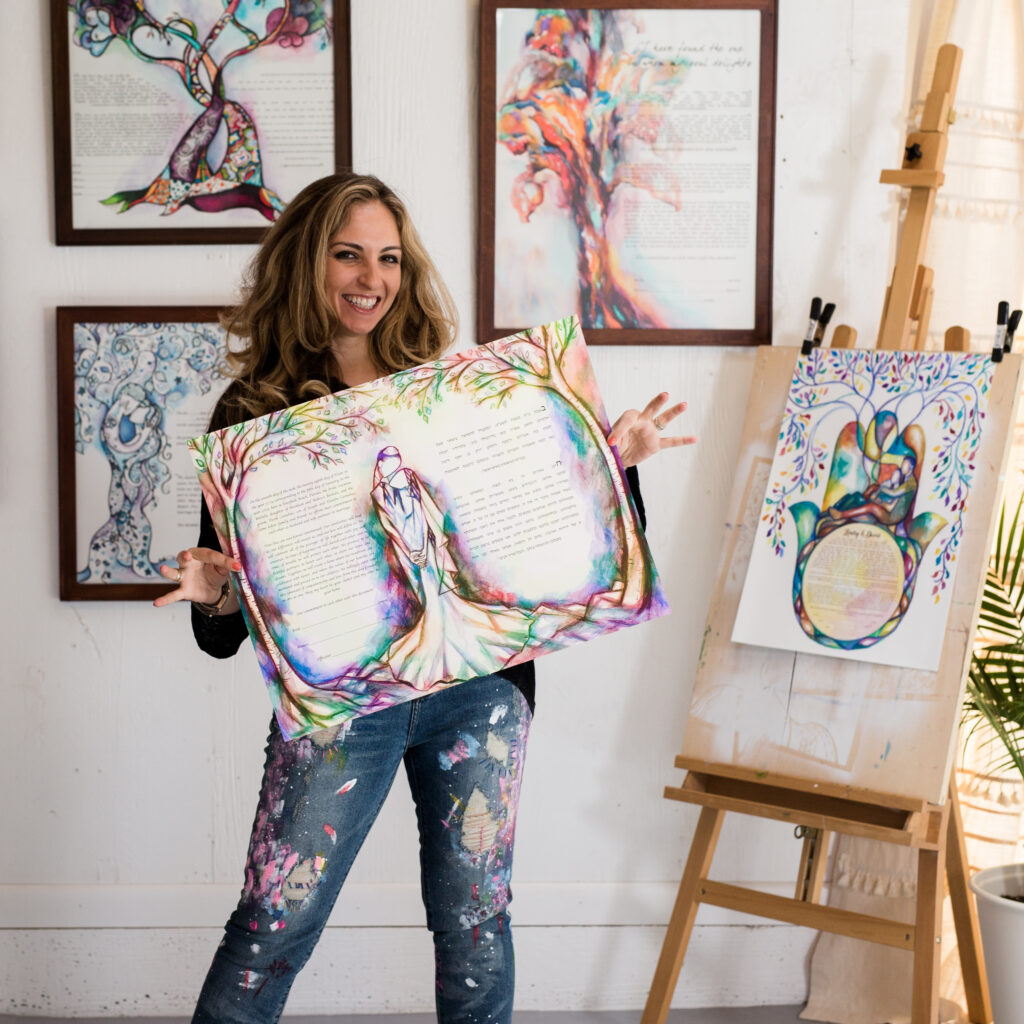 Photo: Courtesy of Anna Abramzon
Tell us a little bit about yourself and your background.
I was born in a country that no longer exists. I love telling people that. Are you stumped?
I was born in the Soviet Union. My family came to the United States as refugees when I was seven. I grew up in Chicago, where I spent my weekends taking all sorts of art classes – from figure painting and still life, to rigorous one on one training with an amazing Russian painter who was kind enough to take me on. When it was time for college, there was no question that I was going to art school. So, I got a BFA from The School of the Art Institute of Chicago. After graduating, I decided that I needed some adventure. First, I moved to New York for a year, where I showed my art in galleries and did the whole "starving artist in NY" thing, and then I took a big leap of faith and made Aliyah to Israel. I was drawn to the mystical energy of Jerusalem, and to the "Hippy" lifestyle there, which seemed to me very spiritual and meaningful. That's when things got really interesting, because upon my arrival, I very quickly fell head over heels for an Argentinian boy. And when I say quickly, I mean it! We were engaged after 6 days – way to give our parents heart attacks! I spent four years in Israel, showing in galleries and running an art program for GAP year students. When our first daughter was born, we decided to move to the US to be closer to family. Since that move we have lived in Chicago, Houston, and San Francisco, before finally landing in Los Angeles. We like to laugh that all four in our family, we now have two daughters, were born in different countries.
What inspired you to become an artist?
My father is a sculptor and my mom was a music teacher, so you might say the arts were in my blood. They say I started drawing before I could walk. That may be a tall tale, but it really has always been very clear that I was meant to be an artist. I was constantly drawing as a child, and that hasn't really changed much. What I didn't know was what type of artist I would end up being, or how I would support myself – that starving artist myth runs deep! Well, when my hubby and I got married, I decided to paint our ketubah (naturally). That was the first ketubah I ever painted. After our wedding, other friends who were getting married started to ask me if I would make ketubot for them. Little did I know that Anna Abramzon Studio was being born.
What is your specialty?
My specialty is contemporary, expressionist figurative art with a Jewish soul. Some of my pieces utilize and draw inspiration from traditional Jewish symbols and motifs and some do not – and yet, they all have a Jewish spirit. I am drawn to rich colors and am constantly playing with unique color combinations. But more than anything else, I love painting people – whether it is a portrait, or just telling their story without ever showing their faces. I really enjoy other humans in general (my husband calls me the ultimate "people person"), so I think that comes across in my work. I truly love all my collectors and pour my heart into every piece.
How and where do you work?
I am incredibly lucky to have a beautiful, sunny home studio. I started out with a corner of a room many years ago, then progressed to a bedroom the size of a walk-in closet, but as my business grew, I took over more and more space. When we moved to Los Angeles, we delegated the largest room for my studio (insert happy dance here). I love working from home, but I do realize that eventually I may need to rent a larger studio space somewhere.
What is the most indispensable item in your studio?
This would be a tossup between my favorite easel which has been with me for over 10 years now and is covered in paint (and markers from when my kids attack), and my Giclée printer which allows me to do all of my ketubah and blessing work in-house.
Where do you take your inspiration? Are you pursuing any themes?
I am most inspired by people, their unique stories. Every piece I work on tells a story – whether it is the story of a couple or person I am working with, or something more broad about our society, culture, or humanity in general. My goal is to always convey the emotion behind the story I am telling, whether it is with literal imagery or with the colors and type of brush strokes I choose. I also enjoy incorporating traditional Jewish symbolism into my work — to pay homage and draw inspiration from tradition while making it contemporary and my own. I love that combination of ancient and modern.
Do you do bespoke work?
But of course! I take on a limited number of commissions every year. You can learn more about custom commissions and custom ketubah commissions on my website.
What projects are you currently working on?
Last year for the first time, I released a collection of original paintings that were not ketubahs, or baby naming certificates. They explored a search for home and what the concept of a "home" truly means – clearly something very relevant to the Jewish experience. I was absolutely blown away by how warmly the collection was received! All but two paintings sold within 15 minutes of being live. This year my goal is to release at least one other collection (maybe a larger one), or maybe even two. Working on those paintings really filled my soul and I am excited to do more of that kind of work.
What are your favourite items in your current collection?
Oh wow, that's a great question! My favorite series of work is my Love Tree collection – these are all images of couples intertwined with the tree of life – and I even have Love Trees with babies, for baby naming certificates or blessings for the home. I have a few favorite ketubahs – I love the colors of the Mystical Forest Ketubah, but I also love my papercut collection, which is new in recent years, and particularly the papercut Love Tree Ketubah.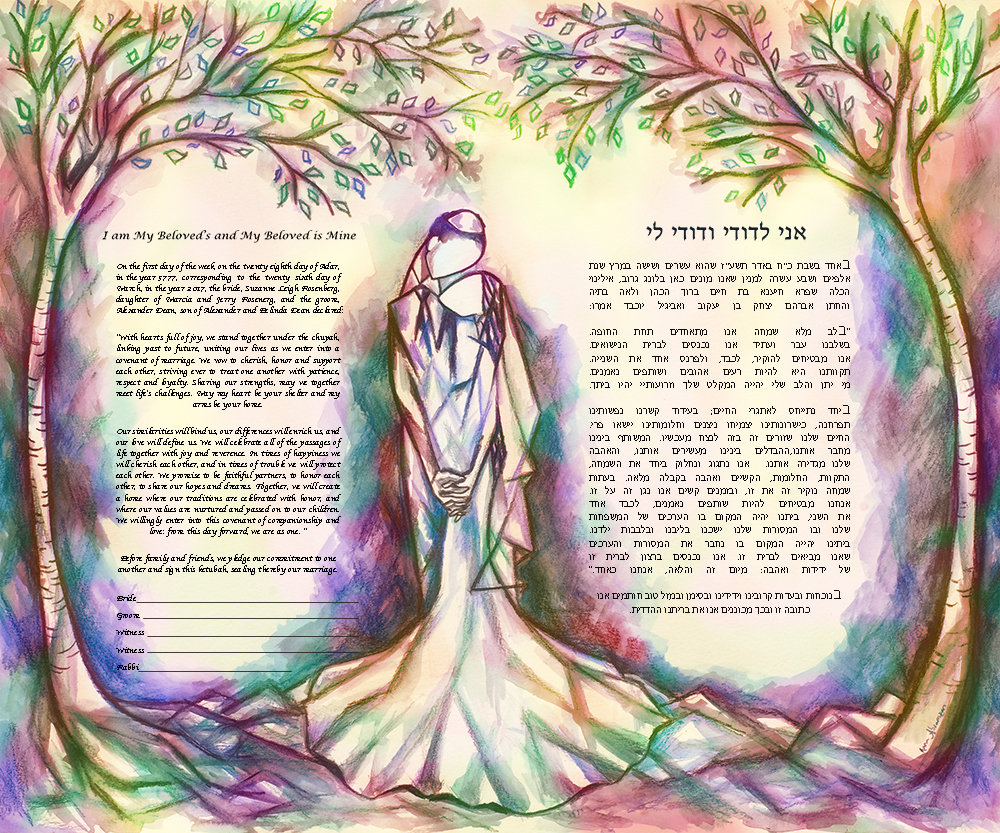 Photo: Courtesy of Anna Abramzon
How do you know when a piece is finished?
Oh Gosh, that is really hard – I tend to want to just keep going and keep going and keep going and have really had to train myself to stop. I feel very "married" to each piece and like to work on them for as long as possible – when I realize that if I keep going I might ruin it is when I have to really force myself to walk away.
What was the first artwork you ever sold?
Oh my, I'm not sure I remember! I remember someone in high school paid me $50 to make a portrait of her parents? Maybe that was the first real "sale"? But I do remember the first time I sold a ketubah online to someone I didn't know – it was so shocking! I had just put it up there in a brand-new Etsy shop on a whim and definitely didn't see that sale coming. There was definitely some happy dancing involved.
Which project have you enjoyed working on the most so far?
One of my very favorite projects is a personal mitzvah project I started about a year and a half ago. Our family lived in Houston during Hurricane Harvey and then moved to the Bay Area just in time for the Napa and Sonoma fires. After I saw the devastation from these two catastrophes, I got to thinking about the best way I could help. I decided to reach out to any families who had lost their ketubahs in the fires or floods and replace them for free. So many people took me up on the offer, and I could see how meaningful a gift it was for them, that I decided to continue the project. Now I have an ongoing offer of free replacement ketubahs for anyone who loses theirs in any kind of natural disaster or other kind of unusual event. It has been a really meaningful and touching experience for me. You can learn a little bit more about it on my website or on Abc News.
Other than that, I have been really blessed with a lot of really cool projects in recent years. I loved this dyptich I did for a couple last year, inspired by the Fiddler on the Roof and also by the San Francisco Bay. I also just finished up a ketubah commission which featured the Northern Lights and even the couple's kittens … they really let me run with it, which made it so much fun to work on and I was thrilled with how it came out. And we can't forget the couple a few years ago who had me paint a ketubah based on their spirit animals! That one threw me for a loop at first, but turned out to be one of my favorites – it's always a gift when my clients challenge me to step out of my comfort zone.
What do you want to achieve with your work and what are your wishes for the future?
I want to continue making beautiful, heirloom artwork that my collectors can treasure for generations to come. My husband likes to say that we renew our ketubah vows whenever we look at our ketubah – and that's my goal for the couples I work with. It is an honor for my art to serve as a reminder of the moment they committed to intertwining their lives and continuing their love story forever. It is also a privilege for my work to be one of the first steps they take towards building their family traditions and incorporating Judaism into their lives – and often they come back to me over and over again for meaningful art for other rites of passage, such as the birth of children, a new home, meaningful anniversaries, etc. Being a part of my collectors' journeys is what makes my work so fulfilling. I am grateful for this privilege every day.
Where can we find your work?
Website: www.aaketubah.com
Instagram: https://www.instagram.com/annaabramzonart/
Facebook: https://www.facebook.com/annaabramzonstudio
Pinterest: https://www.pinterest.com/AAstudio/
Etsy Shop: www.AAstudio.Etsy.com
Photos: Courtesy of Anna Abramzon