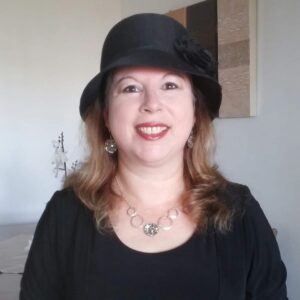 Photo: Courtesy of Anati Studio Tulip
Tell us a little bit about yourself and your background.
My name is Anat. I have four kids and two sweet grandkids. I live in Israel. Since I was little, I love to make artwork including pictures, crafts and more. I got to design the logo of my high school and it appears there until now. Years ago, I created artwork from polymer clay but then I started focusing on making pictures, especially for children rooms.
What inspired you to become an artist?
When my first grandchild was born, I wanted to make her a special gift combined with a Jewish source. I created her a picture with the prayer of "Moda Ani". I got enthusiastic feedback on this picture and requests to make more artwork, so I made a full collection of pictures for children rooms combined with Jewish sources, for example: "Hamalach hagoel oti", "Moda Ani" and "Blessing of the children". After a while, I expended the collection and created Mezuzot, signs for children rooms, and more.
What is your specialty?
My specialty is creating original pictures from a polymer clay. Part of them combined with texts from Jewish sources and personal designs according to costumer's requests.
How and where do you work?
I work in a studio at my home which has a beautiful view.
What is the most indispensable item in your studio?
The most indispensable items in my studio are the polymer clay and the cutting knife I get to use all the time.
Where do you take your inspiration? Are you pursuing any themes?
I get my inspiration from the view I see from my studio, the nature that changes by the seasons, kids outside, a Jewish music and religious motives.
Do you do bespoke work?
I make plenty of bespoke work. For example, I make home signs according to photos of the family members, signs for children rooms based on the hobbies of the child, pictures and Mezuzot based on the costumer's personal taste. Pictures in the collection can be changed and fit upon request.
What projects are you currently working on?
I work on artwork that values the Jewish experience, combined with Klezmer music, traditional Jewish food and Judaica art. I also keep working on new artwork and provide costumers' orders.
What are your favourite items in your current collection?
My favorite artworks are those I create for kids. The colorfulness and the simplicity they are filled with makes me happy.
How do you know when a piece is finished?
Each artwork I've done, I show to my family members and if I get a good feedback, I know the artwork is complete.
What was the first artwork you ever sold?
The first artwork I have sold was the same one I made for my first grandchild. Someone saw it and asked me to make her the same artwork to her own grandchild.
Which project have you enjoyed working on the most so far?
I really enjoyed working on a project for a family that ordered signs for their children's rooms; every child got a sign with their own hobbies and interests.
What do you want to achieve with your work and what are your wishes for the future?
I would like to get with my artwork to Jewish communities all over the world and I wish for every kid to have my artwork in their own room.
Where can we find your work?
Shop – https://market.marmelada.co.il/anati-studio-tulip/
Facebook – Anati Studio Tulip
Instagram – Anati_ Studio_Tulip
Photos: Courtesy of Anati Studio Tulip