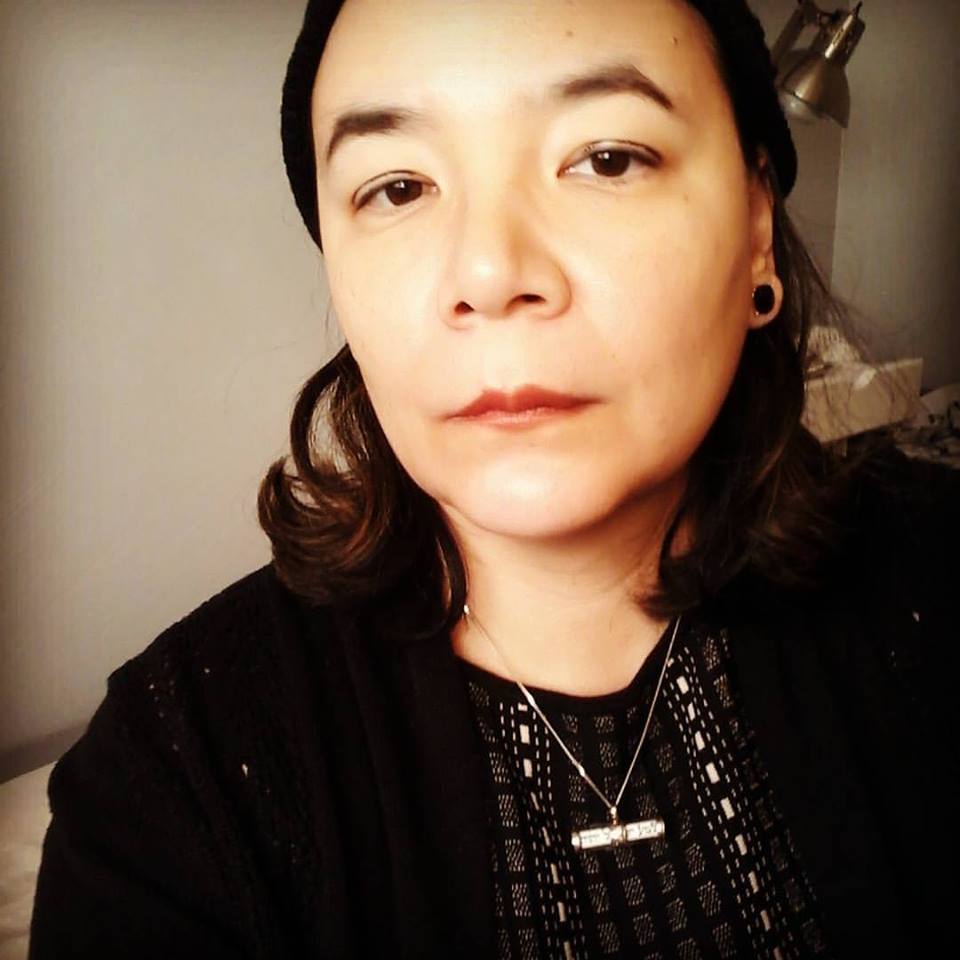 Alyse Radenovic is a Jewish American fine artist. She lives in Alexandria, Virginia. Alyse has been painting since 2007. She worked in other kinds of art since 1997.
Tell us a little bit about yourself and your background.
I grew up in a working-class home filled with an impressive collection of Western and Eastern art in the resort town of Virginia Beach, Virginia. My mother was a Jewish woman from Brooklyn, New York who taught Russian and Spanish. My father was a mathematician who worked as a bookstore proprietor in Norfolk, Virginia. He was from a notable scholarly family in China. My third great-grandfather was the Qing Dynasty political and military leader Zeng Guofan. One of my great-uncles was the distinguished 20th-century Chinese literati painter Chen Shizeng. My grandfather Yu Dawei was a mathematician, WWII general, and R.O.C. defense minister.
In my early adult years I lived in the New York metropolitan area and sold dresses I made at home to local boutiques under the label name Aelisheva, after my Hebrew name Elisheva. I later moved to the Republic of Srpska and partnered with a dressmaker named Sanja Zivka Jovanovic based in Belgrade, Serbia. We continued to work in fashion together after I went back to America.
What inspired you to become an artist?
I always wanted to be a fine artist. I experimented in different media for many years. I made some paintings to be shown with our fashion work, and the response I received was overwhelmingly positive. I was a huge fan of composer Kokan Dimusevski (Dimushevski) from the art music group Leb i Sol. When he personally contacted me in 2009 and asked me to create art for one of his music projects I happily quit my other work and began painting full-time.
What is your specialty?
I am a painter. My subject matter is extremely diverse.
How and where do you work?
I work at home usually in a corner of a small bedroom. Larger canvases need to be completed in other parts of the house. I hope that soon we will be able to modify the basement laundry room so I can have a better work space.
What is the most indispensable item in your studio?
Just painting supplies and lighting.
Where do you take your inspiration? Are you pursuing any themes?
My subject matter is very diverse and so are my inspirations. I am pursuing many themes. Mainly I paint landscapes, cityscapes, Judaica, and abstract works. One of the most important recurring themes of my artwork has been and is my work with Hebrew letters.
What projects are you currently working on?
Currently I am continuing to paint Hebrew texts, which I have done for many years, and scenes from around Northern Virginia. I have painted many versions of the places I have been to and I wanted to try something new, so recently I started painting places I have never been to from photos by others. This has been very fun.
What is your favourite item in your current collection?
My favorite recent work is the painting Matan Torah I, number 2018-22. It depicts the giving of the Torah at Sinai. I incorporated themes from religious thought into it.
How do you know when a piece is finished?
By looking at it.
Do you do bespoke work?
Yes, I do, but only if the project fits and I have a good mutual understanding with the other party.
What was the first artwork you ever sold?
The first dress I sold was slate-gray patchwork pinafore folded and then sewn to shape in a flattened origami style. It included red, silver, black, and white machine embroidery in motifs that subtly referenced themes from a book called "The Secrets of Hebrew Words" by Benjamin Blech that I had read at a family friend's house. Damien Sarrazin, from the Xuly-Bet store (later called Fragile) on Orchard Street in the Lower East Side of New York, sold it on consignment.
The first painting I sold was a landscape of Krajina.
Which project have you enjoyed working on the most so far?
Artwork for "Colours and Colours" audio-visual concert by Kokan Dimusevski.
What do you want to achieve with your work and what are your wishes for the future?
In general I am looking for the right projects and places for my existing and future artwork, and to improve.
Where can we find your work?
http://www.alyseradenovic.com/
https://www.facebook.com/alyseradenovic
https://www.instagram.com/alyseradenovic/
https://fineartamerica.com/profiles/alyse-radenovic.html
https://www.amazon.com/handmade/Alyse-Radenovic
© Alyse Radenovic