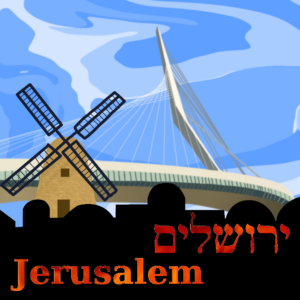 Photo: Courtesy of Bagels & Locks Studios
What inspired you to start your company, Bagels & Locks Studios?
Prior to the onset of the Covid-19 pandemic, we operated the Safed Puzzle Room, an escape room activity located in the center of Safed. We hosted couples, families, and groups of all sizes (between 2- 40 participants) for our unique activity that was built to introduce the history and culture of Safed to visitors of all backgrounds. With all the closures and travel restrictions that began in March, we realized that we needed to figure out how to bring our brand of educational and fun activities online. Thus, Bagels & Locks Studios was born, and we began to develop the first in a series of Israel themed online quest games.
Can you tell us what IsraelQuest is all about?
These online games are educational and fun, and are uniquely designed to appeal to the worldwide Jewish community. IsraelQuest games are online escape room style games with an Israel focus. Each game consists of 10 challenging puzzles. Right now, we offer two IsraelQuest games – Challenge One, and The Jerusalem Secret, with more in development. HolidayQuest games are also in development, and our first HolidayQuest is about to be released. All of our games are designed for a wide range of people – individuals, couples, families, groups of friends, schools and other organizations – we've got options for everyone with Junior, Standard, and Pro versions. The games are designed to get everyone thinking out of the box, having fun, and even learning something new along the way!
How long does an average session last and how many players can partake in a quest?
Junior games, for kids age 9-13, generally take about 45 min – 1 hour to play. Standard games, a great option for families, or for teens and adults with little puzzling experience, take about an hour to an hour and a half to play. Pro level games, designed for people who love a challenge and have puzzling experience, can take 2 hours or more to complete. Solo Play connections offer 1 computer connection to the game – perfect for 1 person, a couple, or a family who is all together in place. Group connections offer up to 4 connections to the same game – so family and friends who are not in the same place can play at the same time. Competition connections allow unlimited numbers of people to join and play at the same time, competing to finish fastest, with up to 4 people on a team. We can set up a competition for as few as 2 people, and as many as 999 – and in theory, more!.
Which part of designing your games did you enjoy the most?
I had so much fun researching all the random facts we needed for the puzzles!
What are your wishes for the future?
We're really looking forward to a post-Corona world, where people can play our online games as well as come to our physical Puzzle Room again. We love that we can connect with people all over the world like this, but we really miss meeting people in person too.
Where can our readers find out more about your company and where can they book one of your quests?
All of our games are available for purchase (Solo Play or small groups) on our website at bagelsandlocks.com. For large groups that require custom games, please reach out to us at [email protected]. We invite you to stay in touch with us by subscribing to our email list and following us on social media. We're on Facebook, Twitter, and Instagram as well.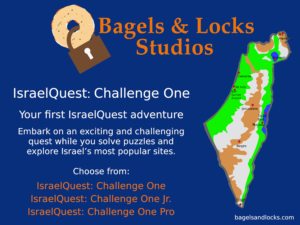 Photo: Courtesy of Bagels & Locks Studios