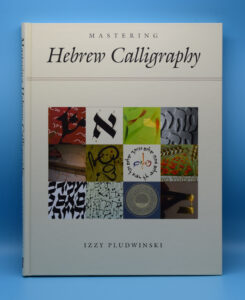 Photo: Courtesy of Judaica in the Spotlight
Time and time again, we are being asked by our loyal readers what book to purchase if they, or someone they know, would like to start practicing Hebrew Calligraphy. Our team can highly recommend "Mastering Hebrew Calligraphy" by accomplished Israel based calligrapher Izzy Pludwinski.
A passionate calligrapher himself, Izzy Pludwinski has published this wonderful book, which quickly became an essential how-to guide in any artist's personal library. This well-written book is an essential resource and a superb how-to guide for anyone interested in calligraphy as an artform.
You will learn everything you need to know about the foundation of Hebrew calligraphy from the materials you will require to start your practice, to the history of the art, and how to dissect and familiarise yourself with each letter in the Hebrew alphabet. Izzy Pludwinski further explains how to analyse historical manuscripts and a variety of Hebrew Scripts that have emerged over the past millennia in a very compelling way. He also explains how to add colours and illuminations to a piece as well as explains in an intriguing and refreshing way how to develop your own unique style.
The book is beautifully written, very informative, and the artworks is presented in a very appealing to the eye. Be prepared to get inspired by reading and learning so much about the various styles presented in this exceptional book.
At Judaica in the Spotlight, we can highly recommend this delightful book to anyone interested in Hebrew Calligraphy. It would also make a superb present for anyone who wants to start practicing this art.