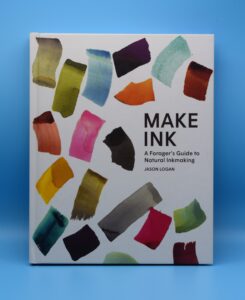 Photo: Courtesy of Judaica in the Spotlight
Our team is always on the look-out for inspiring books to teach us more about art. A while ago we stumbled upon this gem in one of our favourite bookshops.
Make Ink by Jason Logan will captivate you right from the start. You will love learning about the history ink and creating your own inks out of materials you find outdoors such as twigs, leaves, fruit stones, and berries. The step-by-step recipes Jason has included in his book are super are straightforward and very easy to follow.
Writing as well as drawing with ink you have created yourself will bring your artwork to an entirely different level.
Jason Logan's Make Ink is very informative, the artwork shown is very appealing and explanations beautifully written. Be prepared to get inspired chapter by chapter!
This book makes a wonderful present for all the artistic people in your life as well as professional calligraphers. It certainly is something you should not miss in your own bookshelf as well. Once you start working with this book, you will see inspiration and opportunity everywhere you go. Make Ink is such a beautiful addition to the art section in your bookshelf that you will want to turn it into a coffee table book for all your visitors to see when they come over.
You can purchase the book here.